Rector Search
Rector Search
Almighty God, giver of every good gift:
Look graciously on your Church, and so guide the minds of those who shall choose a rector for this parish,
that we may receive a faithful pastor, who will care for your people and equip us for our ministries;
through Jesus Christ our Lord. 
Amen. 

The Rev. Ed Hunt is our Interim Rector as we seek our next rector.
Please check back for news and updates as we take this journey. 
Please sign up in Yeoman Hall to be part of a "Sacred Conversation" to help build our profile.
A Vestry member will facilitate each discussion as participants respond both individually and collectively to eight questions. Responses will be compiled to create our parish profile. And the questions are:
Remember a specific time that was a high point for this church community; a time when you felt this church was doing God's work and fulfilling God's mission.

Name and describe three things you value most about this church community beyond our relationships with each other.

Think back over your whole lifetime and recall a specific time when the church (maybe this church or maybe another church) made a difference in your life. When and how did it happen? Who was involved? Why was it an important time or event?

Why have you made this church your faith community? What brought you here and why do you stay?

What will be the three most exciting and important accomplishments of this church community over the next three to five years? How will you know?

What are other opportunities and challenges facing the church that we haven't discussed?

What questions do you have about where we are and where we're going?

Where do you feel we might be off track?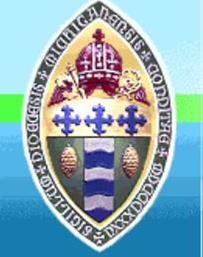 Reaching Out for What Lies Ahead:
Transition Ministry for Congregations in the Episcopal Diocese of Michigan
    View or download the complete guidebook here
Our timeline looks something like this:
Discernment and Profiles………………………………………..6 – 9 months
Receiving Names……………………………………………………2 months
Narrowing the Field………………………………………………..1 month
Phone Interviews…………………………………………………….1 month
Site Visits, In-person Interviews………………………………1 – 2 months
Time between call and arrival of new priest………………2 – 3 months
Total Time………………………………………………..12 – 18 months
Each congregation moves at its own pace and according to its own process of discernment; this timetable is suggested only as an aid in gauging progress and not for purposes of holding to a certain schedule.
June 3, 2016: Vestry Meeting Notes
A Brief Overview of Transition Ministry
Goals for a Transition Journey
Five Steps of Transition Ministry
Timing
Approach