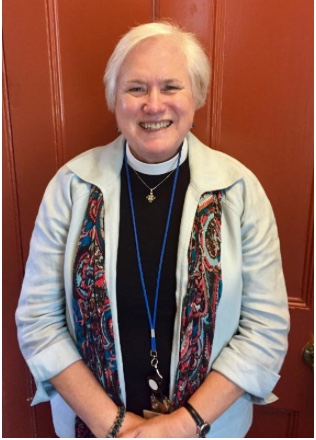 Welcome, Rev. Maryjane Peck!
The Rev. Maryjane Peck will be with us as our interim beginning October 1. To provide St. Michael's family with insight to Rev. Peck's work at Christ Church, we are sharing an excerpt from a letter written by Christ Church's Senior Warden:
"Since February 2016, we have been extremely fortunate to have Maryjane Peck as our interim rector. Maryjane immediately jumped into her new parish with both feet, and she has given us a tremendous gift, not only holding down the fort but helping us to improve in a variety of ways to put us in the best position to welcome a new rector."
Here is more information about Rev. Peck's background and experience.

Education
Master's in Divinity, Ecumenical Theological Seminary in Detroit, 2012
Spiritual Director Internship Program, Dominican Center for Religious Development in Detroit, 2011
Recent educational accomplishments include: Interim Training, Lombard Peace Center Trainings in Healthy
Congregations, Conflict Transformation Skills for Churches, Mediation Skills Training and Clergy Clinic in Family Emotional Process
Master's in Social Work from Wayne State University
Bachelor degree from Nazareth College, Kalamazoo
Experience
Curate, Christ Church Dearborn
Interim rector, Christ Church Detroit, providing liturgical services and programs, pastoral care and parish administration
Trained Spiritual Director, providing individual counseling as well as spiritual retreats and workshops
Licensed Social Worker and Marriage and Family Therapist with over 20 years of experience as an executive director in the non-profit Child Welfare arena
Facilitated workshops and training at the local, state and national levels
Family
Peck and her deceased husband were licensed foster parents for over eight years and adopted three children who are now adults
We believe that it will be a blessing to have Rev. Peck with us here at St. Michael's and hope that all members will join in welcoming her on October 1.